IMPORTANT NOTICE (06. April 2021):

It has come to our attention that new Unisab II / Mission controllers from AAL are no longer compatible with systems running Unisab EEPROM versions below v6.00. The CPU board revision E is missing socket U15 for UVEPROM and only contains sockets for U17 and U18. If you are running the Unisab/Mission system version below 6.00 (for example 5.13) the new CPU board cannot be used. You have two options (below). We are working on a third option, but this has not been tested yet.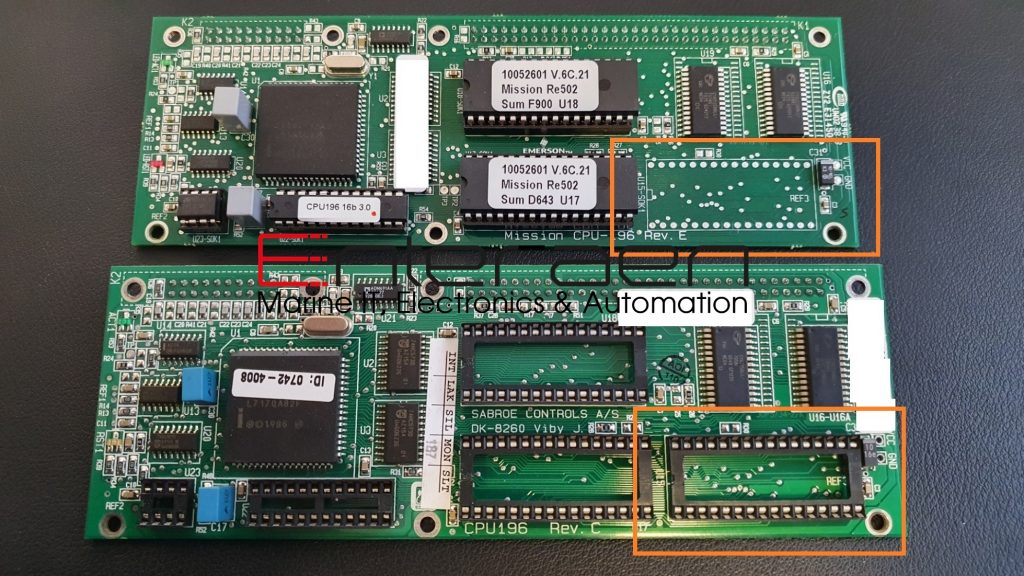 First option:
The solution by AAL is complete system upgrade to a newer version – this means replacing ALL Unisabs with a new model. This in turn makes the Boiler PC incompatible and it has to be replaced as well. This option comes at a very high cost.
Second option:
You get a refurbished unit from us, or we repair your old unit. Get in touch for a quote. More information below.
The UNISAB II we work on are a part of Mission OC/OL boilers by Aalborg Industries (now Aalborg Alfa Laval). Same units are used on certain Sabroe compressors and various HVAC systems.
We are offering this service on exchange basis at very competitive pricing. This means we ship a working unit to you and you return your old Unisab back. This is necessary to keep stock of old units and at the same time we are able to dispatch a refurbished unit at a moment's notice. All the critical components are replaced with new of original or higher than original quality. Each refurbished Unisab II comes fully tested and guaranteed with a minimum of one year warranty.
If we have specific software from your vessel, we can build a partial boiler system in our workshop and can assist in troubleshooting various issues as well.
We can make full backups of your EEPROMs as well, so that no data will be lost, ever.
Unisab II Parts available:
Relay board (Part number: 1574.016)
Piggyback board (Part number: 1608.002)
CPU board (Part number: 1572.026)
LCD display (limited availability)
Front Cover/Keyboard or flexible keyboard (limited availability)
We will beat any valid competitor's quote by at least 10%.
We offer worldwide support. Get in touch.